This week, the world lost a mathematical pathbreaker. Katherine Johnson was one of NASA's "Hidden Figures" – a brilliant mathematician who calculated the trajectory for the Apollo 11 flight. It was her precise calculations that got Neil Armstrong to the moon and back.
Ms. Johnson passed away on February 25 at age 101, and her extraordinary legacy as a female, African-American scientist will long outlive her.
Recently high school junior Neha Sunkara '21 spent weeks studying Katherine Johnson for a research paper. Neha is a student in Montrose School in Medfield, MA.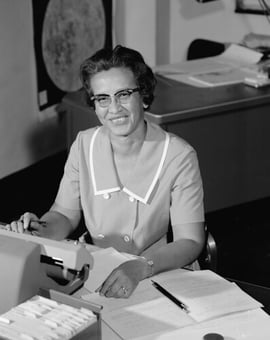 "She transformed the space race for America, but she wasn't as well known until the movie Hidden Figures came out," said Neha. "I want to be an astrophysicist, and sometimes I feel alone in my passion. Knowing someone else like Katherine Johnson is in the math world made such a big impact on me."
Neha shared that Johnson's father "only had a sixth-grade education and was determined that his children would have the most education possible." Johnson started high school at 10, began college at 14 and graduated from West Virginia State by 18 in 1937 – summa cum laude with a double major in French and mathematics. The job market was slim for a black female teenage mathematician. So she became a teacher at a black high school before being hand-picked as one of three African-Americans to integrate the all-white West Virginia University as a graduate student.
Neha was inspired by Johnson's storied 33-year-career at NASA, her commitment to her three daughters and their education, and her unabashed passion for numbers. "She loved math because there was a visible objective at the end. I could connect to that – in math and life. There is an objective to life: there is a reason you are here, and you have to find it."
Several of Neha's classmates also found inspiration while studying the lives of exemplary African-American women for their research projects.
"What you focus on expands"
Lucy Stefani '21 chose to study Oprah Winfrey. Oprah's current eponymous fame belies how culturally transformative her show was. "This was not your typical daytime talk show," said Lucy. "She brought in regular people. She talked about difficult issues – including episodes devoted to sexual abuse -- and gave people a way to talk about them on the show and in real life. She helped open up great dialogue."
Oprah's life story – including the poverty, abuse, and the instability she endured in her early years – became a motivating factor in her career. Over time, said Lucy, she worked to become "the best version of herself instead of giving in to her circumstances."
At one point as a young adult, Oprah was in an unhealthy relationship and "had a moment of clarity while looking in a mirror. She said to herself 'I need to find the strength within me to make this end.'" Lucy added that Oprah's fierce commitment to gratitude inspires her. "As Oprah says, 'What you focus on expands.' She even keeps a gratitude journal. It makes me think, 'If Oprah can do it, I can put aside my feelings about homework -- or whatever is getting me down -- and focus on one good aspect of the day.'"
"You are going to change the world"
Before Maevis Fahey '21 started her research project, she knew very little about Condoleezza Rice – just that she was the second female and first African-American to serve as the US Secretary of State.
"Now I feel like I have shaken her hand," said Maevis. "After reading her memoirs and her writings, I feel like I know her and her character."
Rice grew up in Birmingham in the 1950s. "Her parents were both teachers, and her dad was a local pastor. They were constantly reminding her, 'You are a child of God. You are going to change the world.' And they gave up so much for her." Despite their modest circumstances, they found a way to pay for figure skating and piano lessons – and she became professionally accomplished at each.
"The two words that I used in my paper to describe her," Maevis said, "are grit and elegance. Her father wanted her to love football, and her mom wanted her to play piano." Though her mom didn't live to see her most famous accomplishments, Maevis explains that "everything they had taught their daughter came to fruition."
Maevis found one story emblematic: "[Rice] learned music before she learned to read. She wanted to be a concert pianist. On the night of 9/11, she was at Camp David with the president. Nobody knew what was going to happen. After hours, she sat down with another member of the White House staff, and they started to play piano and sing." Under this incredible pressure and uncertainty, "she brought beauty," Maevis observed.
During their research, these three young women found inspiration not just in their subjects' accomplishments but in their persistence and resilience in the face of challenges, including systemic racial injustice. Katherine Johnson, Oprah Winfrey, and Condoleezza Rice had mentors and family who supported them, and in turn, they have become exemplars for millions of others. They inspire these Montrose juniors – and the rest of us – to aim for greatness.
photo credit: NASA Flickr Account