It's that time of the year: your schedule is packed, you're never sure what day of the week it is, and you can't tell if it's going to feel like summer or a blizzard outside. You've finally gotten used to writing "2019" instead of "2018" when dating your papers, and you feel like you made your New Year's resolutions ages ago. February and March are busy months for Montrosians. Thankfully, the special lineup of speakers propelled us through our school activities.
They served as a reminder to take a moment and reflect upon where we are in life and where we are headed. From stress management, to keeping an open mind about our futures, to the importance of friendship, their advice and encouragement resounded with all students.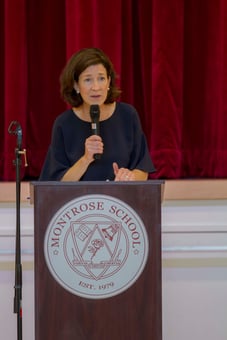 First, we heard from Head of School Dr. Karen Bohlin, during Wednesday's Common Homeroom. She spoke to us about our "stress tests" in daily life -- how the situations we encounter, and how we respond to them, affect ourselves and others. We heard the story of Sir Nicholas Winton, who quietly rescued hundreds of children from Nazi Germany during World War II. Winton demonstrated humility and courage throughout his life, providing us with a role model. Dr. Bohlin taught us that we can practice Winton's virtues on a smaller level, especially in our daily lives. Teaching ourselves to reflect, recalibrate, and respond (our Life Compass) can set us on track to reach our goals, both big and small, while helping us strive for greatness.
"Dr. Bohlin uses really good metaphors," said Tory Kretching '19, "I enjoyed her story about Winton. She connected to us really well." Other Montrosians agreed and said they appreciated the clarity of the anecdotes in her speech. Amelia White '25 said: "I love history, and I didn't know about the man that Dr. Bohlin talked about. It was interesting and different."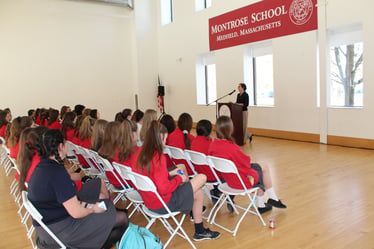 On Thursday, upper school students listened to one of three speakers during M-Block. Each student chose to attend a talk by either a physician, software architect, or lawyer. Dr. Jehanna Peerzada, a Montrose alum and parent of Julie Baker '23, spoke to students about her work as a physician. In the past, Dr. Peerzada has worked as a teacher, in the emergency room, and now focuses on Bioethics research. "I love my job," she said, "I'd do it for free if I could." She explained how many steps it took to reach her current career position and how life can guide you through many different paths before you even know who you want to be.
"Take all the experiences in front of you," she told Montrosians. "It doesn't matter if it ends up as what you're going to do, because it'll teach you something. Every little experience can lead you to your next step, or your next mentor." Especially for students interested in medicine, Dr. Peerzada's lessons were useful and encouraging.
Some students chose to hear from a software architect during M-Block. Mr. Wes Dunnington, parent of Emma Dunnington '19, is the field CTO for Ping Identity, and has worked in software for over 25 years. "He talked a lot about balancing between work and life, and how to balance a career," said Neha Sunkara '21. Mr. Dunnington also explained why his job matters in the world today, especially in the STEM world. Students from the computer science classes and other students with interest in STEM careers enjoyed hearing his first-hand experience in software industry.
Concurrent to these two speakers, Mr. Jim Scamby, parent of Ciara Scamby '21, explained his work as a lawyer. Mr. Scamby explained that, contrary to common assumption, studying law involves many different facets and interests. "His talk was very detailed and it helped us understand many different fields of law," said Faith Chen '22.
"Mr. Scamby helped us understand that being a lawyer isn't just standing up and arguing," said Issie Russo '21, "It also involves a lot of behind-the-scenes work."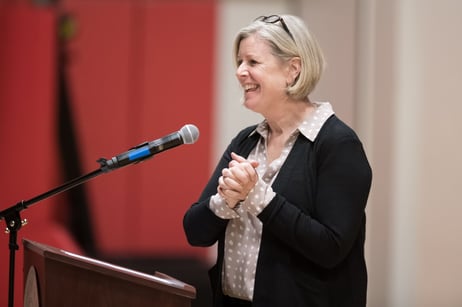 On Friday, Dr. Kerry Cronin returned to Montrose to speak to upper school students and parents about the importance of forging strong relationships with others. Dr. Cronin, also dubbed "the Dating Professor" at Boston College, has spent many years teaching students about the importance of emotional vulnerability. She is especially famous for The Dating Project, an annual assignment for her BC freshmen that requires them to ask someone on a "traditional date." Dr. Cronin's students have two weeks to walk up to somebody they feel attracted to, ask them on a date, make plans with them, and come back to her class to talk about the date experience. A documentary film was created featuring her assignment. Montrose parents had the opportunity to view the movie and speak with her about it on Friday evening.
Dr. Cronin spoke to two groups of upper school students about the importance of friendship. Dr. Cronin asked us to reflect on what kinds of friends we have, and how we can be a better friend to others. Students appreciated how engaging her talk was. "She made us and our friendships important. She didn't preach; she spoke to us," one student said.
Dr. Cronin taught us that the when we time to recognize our flaws, the more we can build our capacity to become a better person and a better friend. These friendships can influence and offer support during many aspects of our lives, especially when we feel stressed or upset. On Friday evening, Montrose hosted a parent education evening to view Dr. Cronin's film and engage with her in discussion.
As we enter into the spring season, Montrosians will return to sports practices, start preparing for AP testing, and rehearse for the spring musical. The lessons from the speakers we heard from will guide us through whatever challenges we encounter, and remind us all to keep moving forward. Thank you to Dr. Bohlin and to all those who organized last week's speaker smorgasbord.